Prima's Kiss This aka "Sophia" is co-owned by myself and Donna Steele, living in Idaho. Sophia has a super sweet personality and loves to play super hard with other Dobermans. She showed a little in UKC with BOB and Group placements, and a little in AKC winning several reserves. She is retired in Idaho now. We are forever grateful for her and her contribution to our breeding program.
Sophia's Dobequest pedigree is available HERE.
AKC # WS50369206
Color bbDd
OFA Hips Fair (*will be redone as the radiographs were not done right for accurate score)
OFA Elbows Normal
VWD Carrier
CERF Breeder's Clearance Normal
Echo Normal
Holter Normal
Thyroid Normal
Liver Normal
Kidney Normal
DCM 1 Negative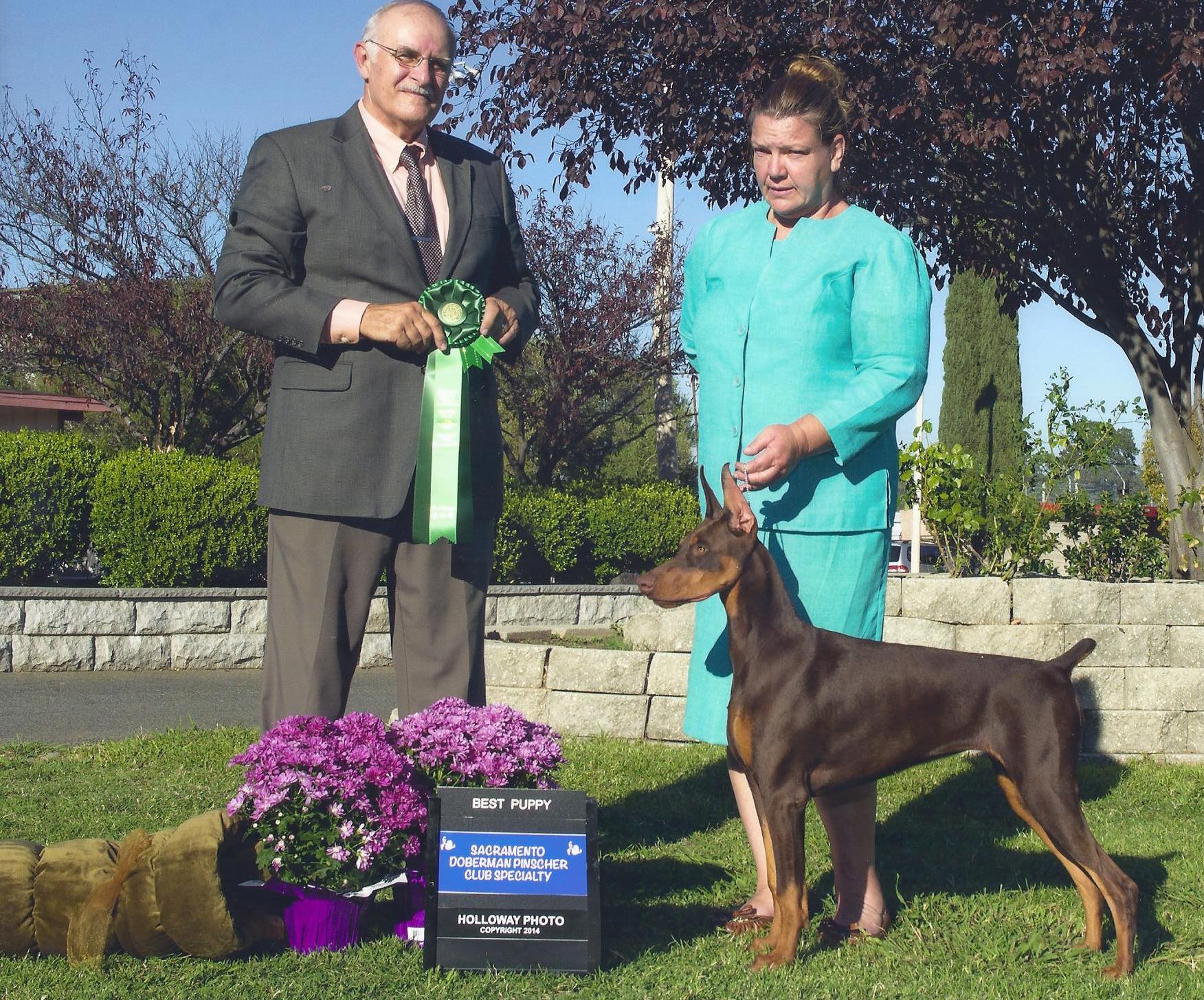 GCH CH Garjan's Pay It On WAC aka "Payton" had so much fun in the show ring and became an AKC championship and grand championship. Payton's favorite activities are to sleep in a dog bed and go on hikes. She wishes she could go back in the show ring so I would love to get her involved with a junior someday. Payton has been a fantastic mom as well with champion and performance sport titled offspring. Payton is now retired and lives in Idaho with family. She may do some performance events in the future.
Payton's Dobequest pedigree is available HERE.
AKC # WS46887202
Color Code - bb (dilute test pending)
OFA Hips - Good
VWD - Carrier
CERF - Normal 05/16
OFA Cardio Echo - Normal 11/18
Holter - Normal 10/18
OFA Thyroid - Normal 10/18
DCM1- Heterozygous
Titles - AKC CH, GCH
U CH Desert Heart of a Lion aka "Lex" is the biggest attention hog ever! Her favorite thing to do is rest her head in your lap for pets and if you stop petting her she will nudge you with her paw. Lex had some fun showing in UKC becoming a champion easily with group placements. She is retired now and lives with a friend.
Lex's Dobequest pedigree is available HERE.
AKC # WS42168502
Color Code - BbDD Black #3 (can produce black/rust and red/rust)
OFA Hips - Good
OFA Elbows - Normal
VWD - Clear
CERF - Breeder's Clearance Normal
OFA Echo - Normal 11/18
Holter - Normal 10/18
OFA Thyroid - Normal 10/18
DVDob 'DINGS' - Normal
Titles - UKC Champion
U Ptd Heilige Schnike CD BN RN CGC WAC aka "Nike" is nearing 7yrs old as I write this. Nike is probably the best dog I will ever have. She loves to work and has good drive. She is bomb proof and totally stable in any situation. She is HIGHLY food motivated and her favorite foods are pizza and cheetos (not that she ever gets those...). Nike keeps a strict bedtime schedule and she lets us know when it is time to tuck her in. She is the only dog that sleeps in our room at night and she has to be wrapped up in a blanket on her dog bed like a burrito! We are training for Open obedience competition in AKC and hopefully getting back into agility this year. This dog can do anything!
Nike is an accomplished brood bitch and we are super thrilled with her puppies! We bred her to two different stud dogs, a working import to which her son Flex (Prima's First To Flex BH) has achieved his BH in IPO sport and is on track to trial for his IPO1 this year, and to Baron an American show dog to which her son Ego became an AKC Champion before 2yrs old including a 5pt major he got at 8mos old at his 3rd show (CH Prima's California Dreamin' CA CGC CGCA TKN WAC), Jag with 8pts toward his AKC Championship (Prima's Moves Like Jaguar), Dexter major pointed and with some single points toward his AKC Championship (Prima's Panthera).
Nike's Dobequest pedigree is available HERE.
AKC # WS37483006
Color Code - BbDD Black #3 (can produce black/rust and red/rust)
OFA Hips - Excellent DP-15072E32F-PI
OFA Elbows - Normal DP-EL2265F32-PI
VWD - Clear
CERF - Normal
Echo - Normal
OFA Thyroid - Normal
DVDob 'DINGS' - Normal
Titles - CD, BN, CGC, UKC Ptd